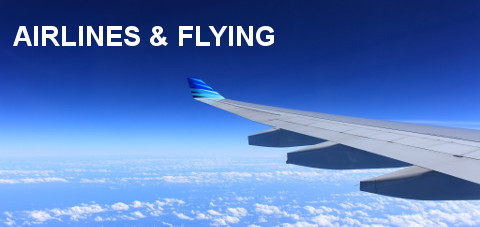 Flying is a must for most business travelers. Frequent flyers not only expect quick, dependable service, but courteous attendants, quick airport procedures and the knowledge that your baggage will be handled and delivered quickly and in one piece, not to mention that it arrives at the same destination as you do.
Major airlines seem to be slipping in a lot of these categories in the past few years, though prices keep rising. The main things most travelers seek in an airline are on-time flights, little or no problems boarding, and hassle free security lines.
For the third year in a row, Virgin America was still the favorite, with Hawaiian coming in second. Third place honors went to Delta Airlines.
Taking the praise for the most consecutive on-time flights is Hawaiian airlines, ranking in at 91%. Envoy/American Eagle, however, ranked the lowest with only 68% on-time performance.
Ranking in at the best for taking good care of your luggage is Virgin America with less than ten bag problem per every 1,000 passengers. Envoy/American Eagle, once again, rates the lowest with close to a hundred bags mishandled for every 1,000 passengers.
Consumer complaints are always a big factor in the ratings of any business. Alaska claimed the number one spot with .42 per 100,000 travelers. This time Frontier takes the lowest spot with 3.91 complaints for every 100,000 passengers.
Of the other major airlines making the list, JetBlue came in fourth for performance ratings, Alaska fifth. Here are the remaining of the top ten.
6. Southwest
7. American
8. Frontier
9. United
10. SkyWest
Envoy/American Eagle ranked number 12 on the list.
Airlineratings.com has plenty of other top ranked things you may be interested in. Here are some notable airlines to check out for your next super long international flight.
The top rated airports include Singapore Changi Airport, Hong Kong International Airport, Dubai International Airport, and Bangkok Suvarnabhumi Airport.
For the best in-flight service, entertainment and comfort check out one of these airlines: Air New Zealand, Singapore Airlines, Qantas, Swiss International or Royal Jordanian. Most of these offer TV screens on the seat back in front of you, and tons of leg room.
For the most comfortable business-class cabins, check out Qantas, Virgin Atlantic, Air New Zealand or Singapore Airlines. Qantas and Singapore also offer some amazing first class cabins that literally have the comforts of home.
Whether you are traveling across the country or around the world, you deserve the best flight you can find. Be sure to check out some of the top rated airlines for your next flight cheap cialis online.